Black Mirror once again proved its technology-driven dystopian nightmares aren't as far off as we'd like to think.
Netflix released the fourth season of the show last month. The third episode, titled "Crocodile," features a woman who witnesses a pedestrian being struck by self-driving pizza delivery vehicle. Without spoiling the episode, suffice it to say that the crash, at first seemingly inconsequential, becomes the epicenter of the plot.
The timing of the episode couldn't have been better.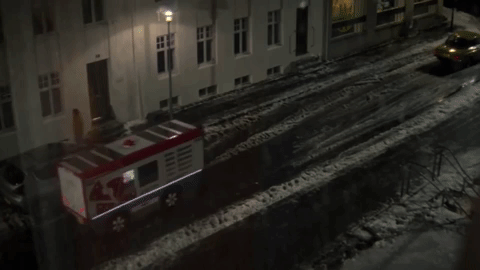 On Monday, Pizza Hut announced on Twitter that it would be partnering with Toyota to create—you guessed it—a self-driving pizza delivery vehicle.
Introducing the first Pizza Hut fully autonomous delivery concept vehicle. Excited for our future with @Toyota #CES2018 pic.twitter.com/YGNQUgijha

— Pizza Hut (@pizzahut) January 8, 2018
The vehicle in Pizza Hut's tweet looks even bigger and scarier than the one from the show. It's certainly much scarier than the little robot Dominos rolled out almost two years ago.
Black Mirror wasn't about to let a promotional opportunity like that go to waste.
We know how this goes. https://t.co/1nTDxuOrlD

— Black Mirror (@blackmirror) January 8, 2018
Pizza Hut didn't take long to respond, saying it isn't Fence's, the fictional pizza place that appears in two episodes of Black Mirror.
Nah, we aren't Fence's.